I am a planner. Whether that means making a detailed, step-by-step course of action or a simple, bulleted list, I always like to have a plan. Last week in Lisbon was no different. I created a note on my phone with a list of everything I wanted to see during my two days in Portugal's capital: Jerónimos Monastery, the Tower of Belém, 25 de Abril Bridge, the Maritime Museum, and much more. I even bought a pass that would get me free entry into many of those places. One of my favorite things about solo traveling is the ability to be spontaneous, so I didn't plan too much, but I did want to visit each of those places.
I arrived in Lisbon on Monday, a day when most museums and historical sites are closed. It was also raining, which kept me from seeing the few destinations that were open. Therefore, Tuesday was going to be a full day of sightseeing. I started out with a quick visit to the National Coach Museum, then made my way over to Belém, home to several of the places I wished to visit. However, it took just one glance at Jerónimos Monastery and the two long lines out front to make me reconsider my plan. Would it be worth it to wait over an hour in the blazing heat? For me, that was no question, especially since I had packed my towel and bathing suit in my backpack that morning.
I turned my back on Jerónimos Monastery and made my way to the metro station to take a train to the beach. On the way, I passed by the Tower of Belém, which also had a long line, reaffirming my decision to abandon my plan. While waiting for the train, I researched the best beaches around Lisbon. There were a few close to the city, but most were a few hours away. Ultimately, the decision came down to Praia de Carcavelos, popular and close to the city, and Praia da Ursa, beautiful and far from the city. I decided to go to Praia da Ursa. I was going to miss out on sightseeing, I might as well take an adventure to a beautiful beach instead. It ended up being more of an adventure than I thought!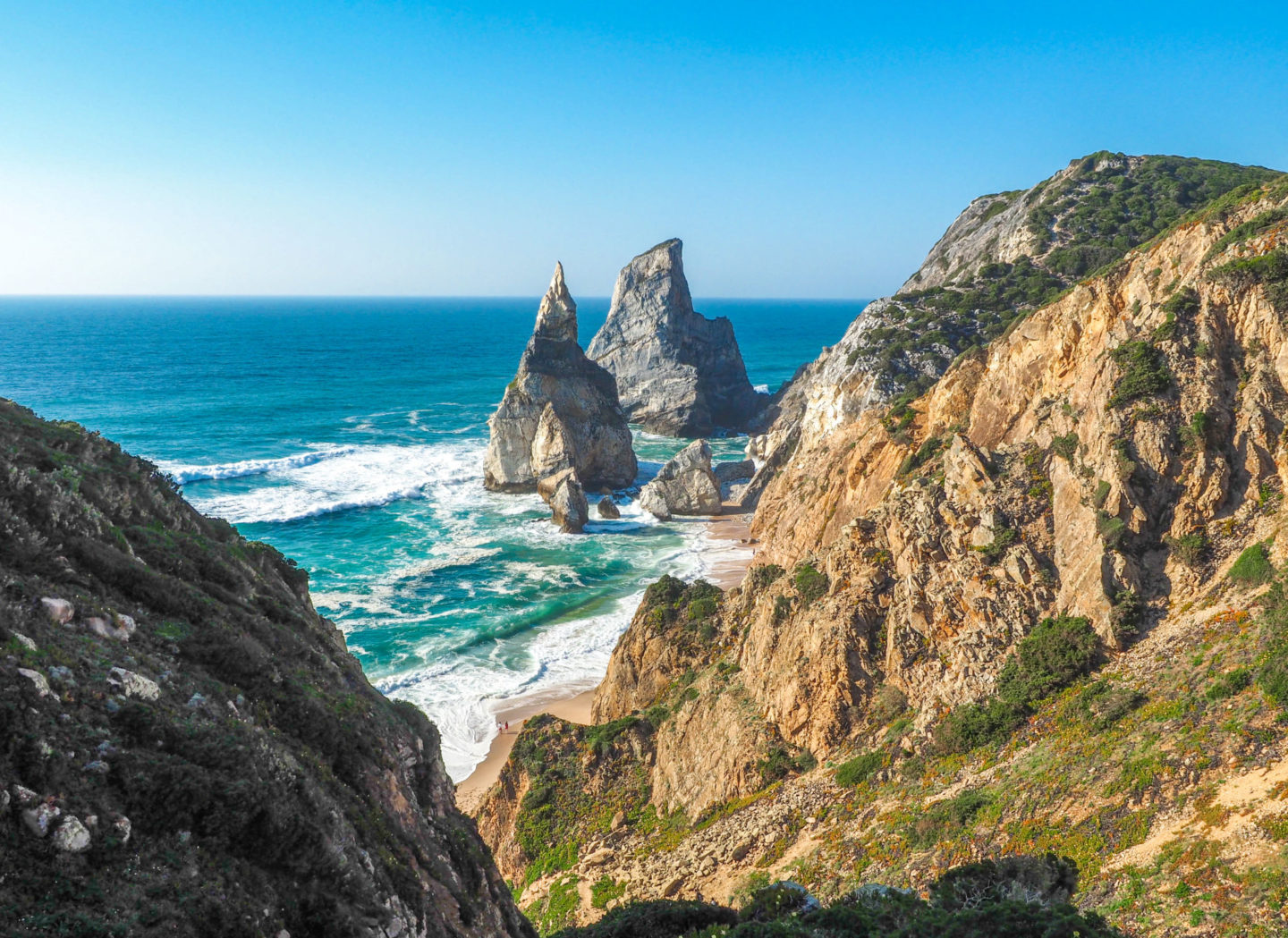 Getting to Praia da Ursa from Lisbon wasn't simple. It required thirty minutes on the metro followed by another thirty minutes on the bus. From the road, there was a steep, twenty-minute hike down to the beach (which I did in flip-flops because my shoes were still in the hostel drying from yesterday's rain). All in all, if you include waiting time, it took me almost two hours to get to the beach. It was worth it. Unlike the beaches closer to the city, Praia da Ursa was quiet and isolated, there were only around 10 other people on the beach with me. Big waves rolled across the foamy water and crashed into the beautiful rocks surrounding the beach. I spend the next three hours swimming, reading, and exploring the rocks. As the fog started to roll in, I decided to hike back to the bus stop. The weather had completely changed from hot and sunny to cold and wet. At the bus stop, I ran into a few other people who had come from the beach. We shared stories and shivered while waiting for the bus, which was scheduled to arrive after thirty minutes. After an hour the bus, packed full of people, finally arrived.
On the way back, I pulled out my phone and reviewed my plan for the day. Of all the museums and historical sites that I had planned to visit, I only went to one, but I didn't mind. Instead of seeing the best Lisbon has to offer, I went on an adventure to the beach. An adventure that took me from a train to a bus to a flip-flop hike. I swam in freezing cold water and climbed amazing rocks. I sat on a foggy road with strangers while waiting for the bus. I didn't view impressive architecture or learn the history of Lisbon, but I got to visit a beautiful beach and create a unique memory.
Years from now, when I think back on my time abroad, I will remember the trips I took and the memories I made. Would I have remembered Lisbon if I had gotten in line and spent the day sightseeing? Who knows? But I will certainly remember my adventure to Praia da Ursa.