Incoming Exchange Program
Why participate in an exchange program at Northeastern?
Studying abroad at Northeastern is a unique multi-dimensional experience.
Experience a city laden with U.S. history and incomparable spirit and pride.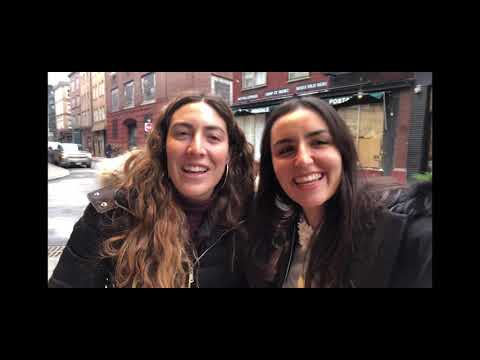 Eligibility Requirements
To apply, you must have the following:
A nomination from your home university (only available for undergraduate students)
A completed Northeastern Global Experience International Exchange Student Online Application
Proof of proficiency in English (i.e. English-language test results, such as TOEFL or IELTS) if English is not the primary, official language at your home university

Cambridge English: First/Advanced
TOEFL IBT: 92 (Reading subscore 22, Listening subscore 22, Speaking subscore 24, Writing subscore 22)
IELTS: 6.5 (no band below a 6.0)
CEFR: B2
PTE: 62 (no band below a 62)
IB: 5
Duolingo English Test: 110

Official academic transcripts
Photocopy of passport ID page
Minimum GPA: 3.0
For more information about these materials please email [email protected].
How To Apply
Incoming Exchange is offered during the following semesters:
Fall: Early September to Mid-December

Applications are due April 15

Spring: Early January to Late April

Applications are due September 15
View the full academic calendar through  Office of the University Registrar.
Learn about Northeastern University
Northeastern University is located in the heart of Boston's cultural center, within walking distance to the Museum of Fine Arts, the Boston Symphony, the New England Conservatory, and the Public Gardens.
Courses & Transcripts
As an international exchange student at Northeastern, you will be registered as a full-time, non-degree seeking undergraduate student. You can select your courses from most of the schools and colleges at Northeastern University as long as you meet the prerequisites for the course.
Most classes at Northeastern are worth 4 credits each. Your study abroad advisor will help explain how these 4 credits will convert to your home university's credit system.
Exchange students must maintain full-time status at Northeastern and not violate their J-1 visa status requirements. This means that you must register for at least 12 credits per semester. You cannot register for more than 18 credits. For most students, this means taking 3 or 4 academic classes per semester.
Descriptions of Northeastern classes can be found in the Northeastern Course Catalog. This is a full list of courses offered throughout the year. You can use the previous fall or spring offerings as a guide for choosing your courses, however there is no guarantee that the exact same courses will be offered.
If you require a course syllabus ahead of time for approval by your home university, please contact us via email at [email protected]. We will make every effort to obtain the syllabus for you, but we cannot guarantee that they will be available.
The following Northeastern schools, programs and courses are not available to exchange students. Please take these into consideration when planning your courses.
Restricted Schools
School of Law – This is a separate graduate-level degree program which is not available to exchange students. If you are studying undergraduate law at your home institution, you may browse the Undergraduate Course Catalog to find courses which have a law focus in many different areas of study.

D'Amore-McKim School of Business –

Because of

high demand, course choices are limited in the School of Business. Exchange students are

permitted

to enroll in a maximum of two (2) business courses and are encouraged to supplement their curriculum with

courses from other Schools/Departments

such as Economics.

College of Professional Studies (CPS)
Restricted Programs
Cooperative Education courses and experiences
International Business (BSIB) Core Courses
Strategy Courses (STRT)
English as a Second Language (ESL)
Restricted Courses
BUSN 1101
INTB 1202, 2202, 3202, 4202
FINA2202
MGMT 4310, 4603
ORGB courses
Master's or PhD level courses
Admission to any course is not guaranteed.
To learn when certain courses are offered, use the Dynamic Scheduling Tool. Start by selecting the term/semester in which you are looking for a course. Please note, that not all courses are offered in every semester. This is the recommended method for finding courses to take during your Northeastern experience. Use this tool while completing your GEO Incoming Exchange Application to select your courses and to discuss these course selections with your international office advisor before coming to Boston.
GEO will register you for your classes before you come to Northeastern based on the course selection form you submitted. We cannot guarantee enrollment into any particular course, so be flexible when planning your course schedule. Follow the steps below to register for your courses.
Step 1: Select Your Courses
You are required to submit 8 – 10 courses identified by the Northeastern Course Catalog and the Dynamic Scheduling Tool. Remember that you will be taking a total of 3 or 4 courses at Northeastern; the other courses will be used as backup options.
Step 2: Review Requirements
Carefully review all prerequisites listed for every class you are interested in taking and meet with your advisor to ensure that you meet those requirements. If prerequisites are listed, you will have to provide evidence (usually your transcript and/or syllabi from the course) to show that you meet these requirements. Make sure you do not choose any courses listed in the Course Restrictions section above.
Many courses also have multiple components such as co-requisites, lectures, discussions, and/or labs. Pay attention to these requirements (outlined in the Dynamic Schedule) to ensure that you end up registered for all requisite components of your desired courses.
Step 3: Review Schedule
When you have found 3 – 4 classes for which you believe you are qualified, check their scheduled days and time using the dynamic search tool to ensure there are no scheduling conflicts. You must attend each class at it's scheduled time; you are not permitted to register for classes that have overlapping time slots.
Step 4: Register for Classes
Once you have completed your course request application, the GEO registrar will begin the process of registering you for courses. Please note that any course change requests must be supported with a strong academic reason.
Add/Drop Period
There is an Add/Drop period at the beginning of every semester when you can make changes to your class schedule if necessary. See Registrar schedule for the exact dates.
Classes that are Full or Unavailable
Northeastern cannot guarantee enrollment in a course, which is why it is required to choose 4 courses and 4 alternates. In addition to restrictions listed above, courses may be full before it is your turn to register. Please be flexible when planning your courses.
If a particular class is already full, it may be possible to gain admission. There are three ways to do this:
If another student drops the course. If a course you are particularly interested in is full, it is still possible that another student enrolled will withdraw, creating an opening. You can check back regularly to see if this occurs.
Via waitlist. Some courses have a waitlist option. See the Registrar procedure here for waitlist registration.
During the Add/Drop period. During this time, you can work directly with GEO to add and drop courses that you have been approved to take. During Add/Drop, it is also possible that other students will drop a class creating space for new registrants.
GEO will send official transcripts to students' home institutions upon completion of the semester or academic year. Students can view their unofficial transcripts via the Student Hub or request copies of their official transcripts via Parchment.
You can find details of  Northeastern's grading system here. Final grades in your classes are typically a weighted average of the combined classwork in a course, which can include homework, essays, class participation, and exams. All of your classes and grades from Northeastern will be reported to your home university.
Finance
Tuition and fees are waived for incoming exchange students. Below are the estimated costs per semester for each student:
Proof of Funds: You will need to submit proof of access to personal, family, or academic funds upon application for your DS-2019. This normally ranges from $11,500-12,500 for one semester and $24,00-$25,000 for the academic year and must be submitted as a bank statement. This does not include tuition, which is waived for exchange students. This is also NOT a bill. Some students may spend significantly less than this amount, and some may spend more, depending on their styles of living. However, this is the amount the Office of Global Services needs to verify in order to issue a DS-2019, a document required for your US Student Visa.
Housing: Approximately $4,950 – $6,825 per semester, depending on your accommodation. Please review current Northeastern housing rates.
Dining: Approximately $1,430 – $3,395 per semester, depending on your plan. Please review current dining plan rates.
Health Insurance: You are recommended to purchase Northeastern health insurance for your time abroad. although it is strongly encouraged.

If you waive the Northeastern health insurance, your current health insurance policy must meet the

requirements of the J-1 visa

to seek medical help while abroad.

Please note that it is your responsibility to ensure that the J-1 visa requirements are met.

 

Personal Spending: This amount varies depending on the budget of each student. It is estimated that students spend about $100-150 per week on entertainment, travel, and other personal expenses.
Learn about Boston
Boston, Massachusetts, is one of the most historic and cultural cities in the United States. It is considered a university town, with many undergraduate and graduate programs, and at the forefront of scientific, biotech, and medical research. Always known for its avid sports fans, Boston now boasts several world champion sports teams.
More than 18 million people visit the city annually, making it a top tourist destination. It is home to an internationally acclaimed symphony, a wealth of museums and galleries, bustling nightlife, theatre, concerts, sporting events, shopping, exquisite dining, and more.
Accommodations
On-Campus
Due to capacity restrictions, we have limited university housing for our Incoming Exchange students. University housing is based on a competitive lottery and cannot be guaranteed upon application.  
Fall: We are only able to offer housing to 50% of Fall students

 

Spring and Full-Year: There is no housing available to Full-Year and Spring students. 

 
Most university accommodations are single rooms with two beds and a shared bathroom. 
Off-Campus
Off-Campus Housing and Support Services is here to help guide you through the process of finding housing off-campus. Review the International Student & Off-Campus Apartment Guide.
Learn about New England
The New England region offers access to some of the most beautiful mountains, countryside, and seaports in the country, with opportunities for hiking and camping, and water and winter sports.
Student Life
Facilities
Classrooms and Laboratories – Northeastern houses some of the most advanced research laboratories and institutes in the area.
Snell Library is the largest academic library in Boston, and a quiet place to study or to meet friends at the CyberCafe.
Curry Student Center is the hub of the Northeastern Boston campus. Shop in the bookstore, unwind in the game room (pool tables, table tennis, Wii™, television) or take in a new music group at the AfterHours nightclub.
Marino Recreation Complex is a great place to exercise, meet people, and simply have fun!
Involvement on Campus
The University offers an impressive array of innovative student organizations in which you are encouraged to get involved. The Center for Student Involvement hosts a Fall and Spring Club Fair for students to explore available clubs, teams, and student opportunities.  
Support Network
The Center for Spirituality, Dialog, and Service – Regardless of your religion or faith, you can practice it in Northeastern's nurturing environment. The Center for Spirituality, Dialog, and Service offers programs for people of all faiths. Religious leaders from many spiritual paths are here to serve you. The office is located at 203 Ell Hall.
University Health and Counseling – Onsite medical and behavioral health teams make sure you receive prompt and compassionate care and support. UHCS is located on the 1st floor of Forsyth Hall.
Orientation and Cultural Programming
Northeastern requires exchange students to attend Orientation, which is a one – day session held the week before classes begin. Orientation will be the first week of January for Spring students and the last week of August for Fall & Full Year.  
The Global Experience Office provides cultural programming activities for Incoming students including a Boston Harbor Boat tour, Boston Red Sox Baseball tickets, the Boston Pops Holiday Symphony, and more! 
Visa & Travel Info
While many documents are required by federal regulations for you to enter into and study in the U.S., your passport, DS-2019, and nonimmigrant visa are the three most critical. You must make sure that these documents are accurate and remain valid throughout your stay in the United States.
Passport
You must have a valid passport to apply for a DS-2019 and a visa. Your passport must be valid for at least 6 months after the last day of your program. If your name shown on your passport has changed for any reason, carry official name-change documentation with your passport. (For example, bring an original marriage certificate documenting a name change.)
Certificate of Eligibility: The DS-2019
The DS-2019 indicates that an international applicant has been accepted as a full-time, non-degree exchange student, with the required proficiency in the English language (documented by TOEFL test scores or their equivalent), with sufficient financial support (documented in the DCF form) to study at a U.S. academic institution.
Once you have been accepted to study at Northeastern University, OGS initiates the process of issuing your DS-2019. You must have this form before you can obtain your J-1 exchange visitor visa to attend a school in the U.S. It is also required in order to maintain lawful student status when transferring or changing schools within the U.S.
Visa Application Process
For information on obtaining a nonimmigrant student visa, please visit the Office of Global Services.